First on Scene Training provides a full series of Emergency Response Team training service.

What is ERT
ERT or Emergency Response Team is a collection of employees that have agreed and been trained to respond to an emergency at their place of work. These employees are provided with authorization to direct and respond to a site emergency. In many cases they have been issued response equipment to assist in responding to the emergency. The better this team is trained and outfitted with proper response gear the better their response will be. The ERT works with the Facilities organization. Facilities have the primary responsibility of the physical building or plant where the ERT is concerned with the employees.

In addition to the foundation courses CPR/AED and First Aid. We offer as series of courses to expand the teams knowledge.
Building Evacuation
Crowd Control
Medical Call
Triage
Secure area safely
Shelter in place
Snake Awareness
Incident Comand Ssystem (ICS)
Communication during an emeregncy
How to implement a Mass Causality Incident (MCI)
How to setup a Emergency Operation Center (EOC)
First Responder teams go by various names:
Corporate Organization
ERT- Emergency Response Team
EERT- Employee Emergency Response Team
SERT- Site Emergency Response Team
Community Organization
CERT- Community Emergency Response Team
DART- Disaster Assistance Response Team
DSW- Disaster Service Works
MRC- Medical Reserve Corp
Levels of ERT Training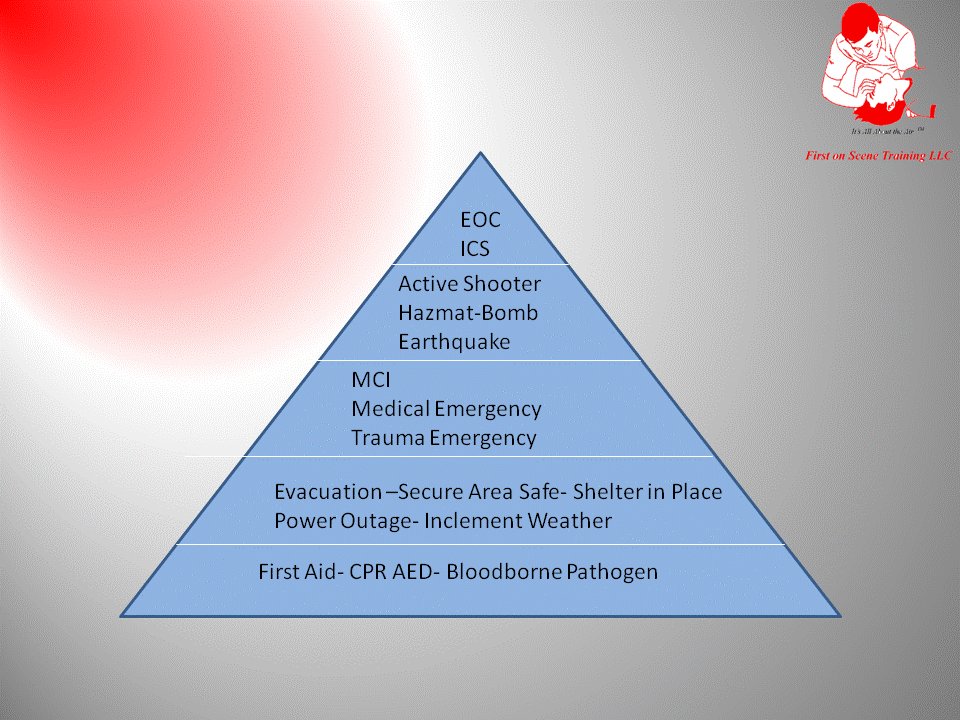 ---
2012 First on Scene Training LLC All Rights Reserved